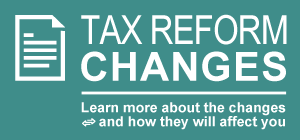 The new Taxpayer Advocate Service's Tax Reform Changes website shows you how the new tax law may change your future tax filings and helps you plan for these changes. Currently, the site addresses the most common 2017 IRS Form 1040, U.S. Individual Income Tax Return topics and whether the tax law changed.
The information is categorized two ways: Tax topic such as income or payments and line by line in order of the 2017 IRS Form 1040. In addition, it includes scenarios to describe how the new law may affect you.
There is also a direct link to the Paycheck Checkup, where you can find a calculator to help you determine the right amount of federal income tax withholding and whether you need to adjust your Form W-4, Employee's Withholding Allowance Certificate.
Do you Have a Federal Tax Problem You Need Help With?
The Neighborhood Christian Legal Clinic – Low Income Taxpayer Clinic can consult with you to provide advice regarding your IRS tax problem, and/or potentially act on your behalf for FREE if you qualify for assistance (come to a clinic intake session)!
——
Jim Floyd is the Staff Enrolled Agent at the Neighborhood Christian Legal Clinic – Low Income Taxpayer Clinic. As an Enrolled Agent, Jim is a federally-licensed tax practitioner with unlimited rights to represent clients before the Internal Revenue Service. This means he is unrestricted as to which taxpayers he can represent, what types of tax matters he can handle, and which IRS offices he can represent clients before. Enrolled agent status is the highest credential the IRS awards.
Jim is also a member of The American Society of Tax Problem Solvers (ASTPS), a non-profit professional association of practitioners that specialize in representing taxpayers before the IRS and other taxing authorities. Membership in ASTPS reflects commitment to excellence and high standards in taxpayer representation
Source: Internal Revenue Service