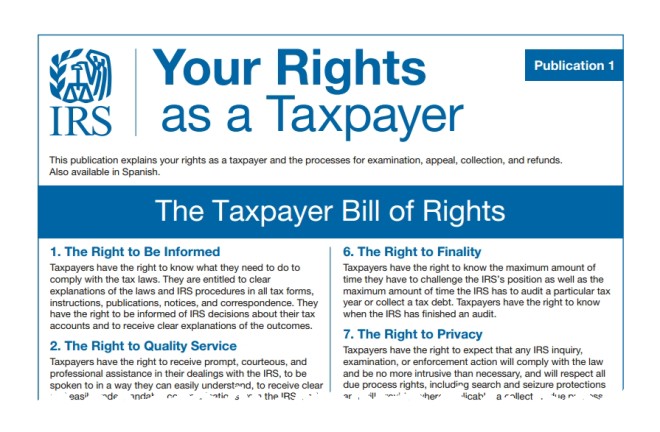 Are you in the middle of a disagreement with the IRS? One of the guaranteed rights for all taxpayers is the right to appeal. If you disagree with the IRS about the amount of your tax liability or about proposed collection actions, you have the right to ask the IRS Appeals Office to review your case.
During their contact with taxpayers, IRS employees are required to explain and protect these taxpayer rights, including the right to appeal. The IRS appeals system is for people who do not agree with the results of an examination of their tax returns or other adjustments to their tax liability. In addition to examinations, you can appeal many other things, including:
1. Collection actions such as liens, levies, seizures, installment agreement terminations and rejected offers-in-compromise,
2. Penalties and interest, and
3. Employment tax adjustments and the trust fund recovery penalty.
Internal IRS Appeal conferences are informal meetings. The local Appeals Office, which is independent of the IRS office, can sometimes resolve an appeal by telephone or through correspondence.
The IRS also offers an option called Fast Track Mediation, during which an appeals or settlement officer attempts to help you and the IRS reach a mutually satisfactory solution. Most cases not docketed in court qualify for Fast Track Mediation. You may request Fast Track Mediation at the conclusion of an audit or collection determination, but prior to your request for a normal appeals hearing. Fast Track Mediation is meant to promote the early resolution of a dispute. It doesn't eliminate or replace existing dispute resolution options, including your opportunity to request a conference with a manager or a hearing before Appeals. You may withdraw from the mediation process at any time.
When attending an informal meeting or pursuing mediation, you may represent yourself or you can be represented by an attorney, certified public accountant or Enrolled Agent.
If you and the IRS appeals officer cannot reach agreement, or if you prefer not to appeal within the IRS, in most cases you may take your disagreement to federal court. Usually, it is worth having a go at mediation before committing to an expensive and time-consuming court process.
Have a Federal Tax issue you are dealing with? The Neighborhood Christian Legal Clinic – Low Income Taxpayer Clinic can consult with you to provide advice regarding your IRS tax issues, and/or potentially act on your behalf for FREE if you qualify for assistance (come to a clinic intake session)!
——
Jim Floyd is the Staff Enrolled Agent at the Neighborhood Christian Legal Clinic – Low Income Taxpayer Clinic.
As an Enrolled Agent, Jim is a federally-licensed tax practitioner with unlimited rights to represent clients before the Internal Revenue Service. This means he is unrestricted as to which taxpayers he can represent, what types of tax matters he can handle, and which IRS offices he can represent clients before. Enrolled agent status is the highest credential the IRS awards.